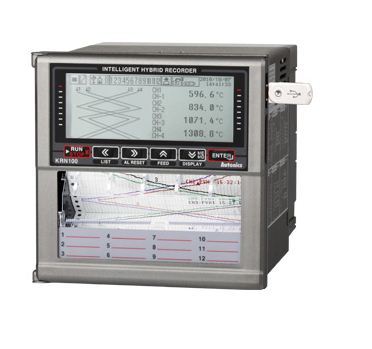 KRN100 Series
Product Code : KRN100
Product Description
Recorders
Recorders are devices which display and record various measured inputs including temperature, humidity, flux, and pressure.
100mm Hybrid Recorders with Graphic LCD & USB Memory Support

KRN100 Series are 100mm hybrid recorders featuring functions of a strip chart recorder and a paperless recorder. The recorders are capable of recording measured values of temperature, humidity, level, pressure, and much more. The data can be stored onto USB memory and can printed later with the data logger function. The series also features convenience features including parameter configuration via USB communication port, slot type input/output cards, and other user-friendly functions.
Main features

Integrated functions of a strip chart recorder and paperless recorder
Data logger function: print from saved data on internal memory or USB memory
Parameter configuration and monitoring through USB, RS485, or ethernet
Graphic LCD provides excellent readability and convenient configuration
25 to 250 ms high-speed sampling, 10 to 240 mm/H high-speed recording
100mm strip charts (6 recording colors)
Supports data backup to internal memory or USB memory
Supports up to 12 channels of various inputs with slot type input cards
Select various option cards with slot type output cards
Compact, space-saving design (rear length: 168 mm)
Supports 27 types of input
Various input cards available on demand (mass, voltage, current, frequency, potentiometer, etc.)
Hybrid Type


KRN100 Series



100mm Hybrid Recorders with Graphic LCD & USB Memory Support


KRN50 Series



50mm Compact Hybrid Recorder & Data Logger in One

Paperless Type


KRN1000 Series

LCD Touchscreen Paperless Recorders


Contact Us
C- 88, First Floor, Sector-65, Noida, Uttar Pradesh, 201307, India
Phone :+919632491583